WinlabMadwifi → Pipeline MAC paper Discussion
Paper Title:
Cooperative Scheduling Via Pipelining in 802.11 Wireless Networks
Download ​pdf
Ramana Rao Kompella, Sriram Ramabhadran, Ishwar Ramani, Alex C. Snoeren
University of California, San Diego
Motivation
Per packet Micro-scheduling need firmware/hardware(MAC) upgrade
Macro-scheduling could be done in multiple packet basis periodically, e.g 10ms.
Cooperative scheduling extensions can be supported using a new layer on top of the existing MAC layer.
Features of Scheme
each node conducts "global scheduling" based on "load information" of all other nodes.

the global scheduling determines a TDMA-like slot/bandwidth allocation

3 stages, 2 ½ pipelining:

Estimation — load exchange — scheduling
equivalent to predict — signaling — access
"load excange" phase overlapping with "estimation"
First cycle's scheduling overlap with second cycle's "load exchange" phase

Kernel code modification

packet_tx
packet_rx
stop_queue
wake_queue
Diagrams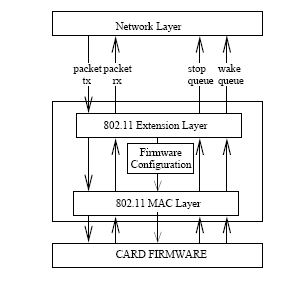 Figure 1: 802.11 extension layer architecture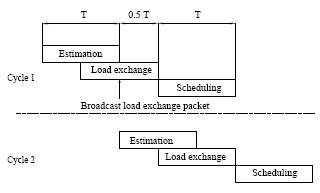 Figure 2:2.5-stage pipeline architecture. Each pipeline stage is equal in duration, but estimation stage and load exchange stage for a given cycle overlap with each other.
Experiment Evaluation
using 2 nodes and 1 AP, configure 1 node to have twice bandwidth as another node (interferer/competitor). All use NETGEAR cards (Atheros-chip).
Weakness
a solution for IEEE 802.11 Wireless LAN, not a solution for multi-hop
no solution for signalling loss, wrong scheduling automatically fades out in next cycle.
rely on AP's beacon to sync all nodes.
very simple experiment scenario and incomplete results.
Disucussion
Is a kernel patch a good approach? The kernel & driver are difficult to develop. As long as the software can be stablized, it is a feasible approach.
10ms scheduling resolution, good enough? No. Schedule too many packets in a batch. It's better to use HW timer, a 64-bit timing counter in Atheros chip.
Last modified
17 years ago
Last modified on Feb 28, 2006, 12:45:38 PM
Attachments
(2)
Download all attachments as: .zip
Note:
See
TracWiki
for help on using the wiki.