Topology 4: Concurrent Traffic Sessions (MAC Fairness)
Goal
This represents a typical scenario with multiple indepdent traffic session sharing a same 802.11 channel.
Steps
In order to achieve this, the following steps are needed
run the nodehandler script in the grid: ./nodehandler macfair
run the post-process perl script: ./dbprocess.pl <database_name>
view the EPS file named "gnuplot_graph1.ps", which contains throughput comparison plots for each flow.
Scripts
The nodehandler script (RUBY) to run this experiment:
The

​

perl script to postprocess database and plot the results in EPS file.
The gnuplot configuration file:

​

fairplot.gp
Notes
Sample Results
We plot the (Throughput, RSSI, PHY rate) for each individual session using the experiment script provided above.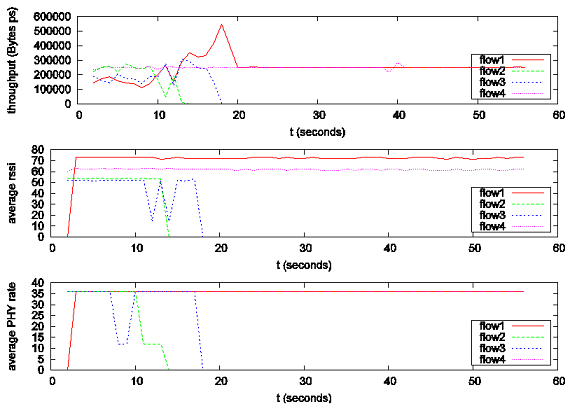 Last modified
16 years ago
Last modified on Oct 18, 2006, 4:37:30 PM
Attachments
(5)
Download all attachments as: .zip
Note:
See
TracWiki
for help on using the wiki.