Topology 2: Simple Hotspot AP scenario with a distribution of clients (at different PHY rates)
Goal
This represents a typical hotspot AP scenario with a distribution of users (both near the AP, on the edge of the AP coverage and some in the middle. Users will experience links with different sustainable PHY rates in this scenario.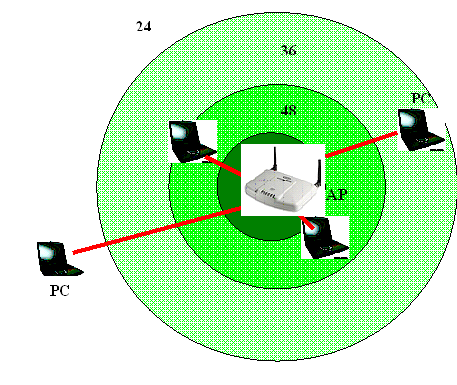 Steps
In order to achieve this, the following steps are needed
The corner node (1,2) is selected as the AP
Select the set of nodes on the grid as required (clients)
Disable autorate adaptation in the card
Set the PHY rates to fixed rates based on the distribution required by the experimenter
Scripts
The script to run this experiment can be found ​here
Sample Results
We plot the total system throughput using the experiment script provided below. This is compared against the system throughput obtained if all the clients in the experiment experienced 54 Mbps links. The results indicate that users at the edge of coverage affect the total system throughput.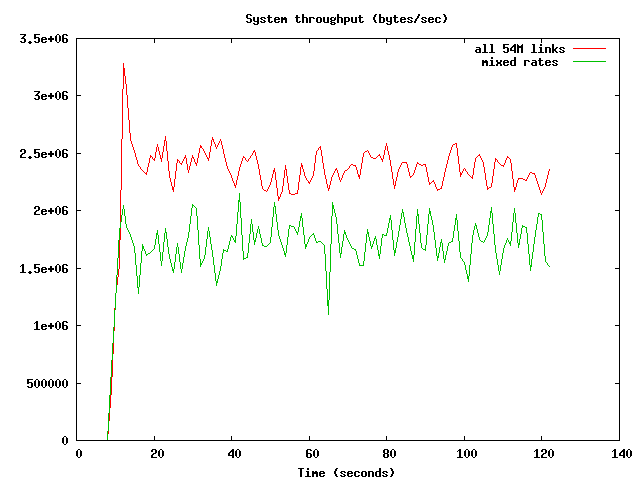 Last modified
16 years ago
Last modified on Aug 23, 2006, 8:00:38 PM
Attachments
(3)
Download all attachments as: .zip
Note:
See
TracWiki
for help on using the wiki.