Summary Info on Current Status for 802.11 Devicescape Stack
(Slides version of this document is available as a PDF attachment:"80211dscapestack.pdf"​.)
Devicescape Inc. Summary
Wi-Fi software specialist Instant80211 has renamed itself

​

Devicescape Software Inc. in Feb. 2005.
Devicescape mainly sells Universal Wireless Platform (UWP) product which includes

Linux kernel
Devicescape wireless subsystem (a device-independent IEEE 802.11 software core)
An Eclipse based integrated development environment (Devicescape Studio)& command-based development environment.
Wireless-specific tools for the 802.11 subsystem
GNU toolchain
Build scripts and makefiles

UWP supports Atheros (AR5213), Broadcom (BCM4306/4309/4320), Conexant radios.
Architecture Diagram for Devicescape Inc. UWP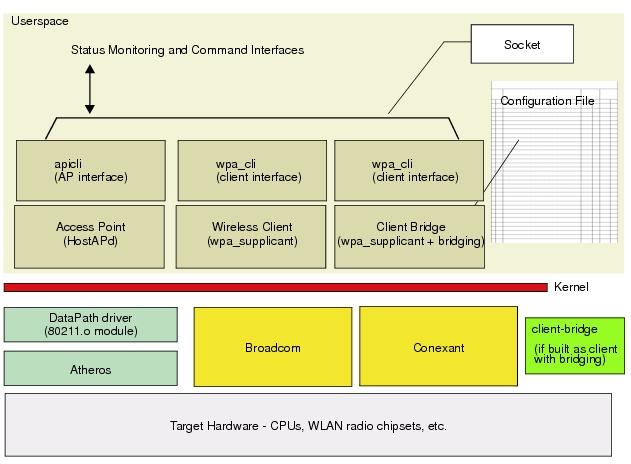 Summary on Linux 802.11 stack situation
There exists a wireless-2.6 tree on

​

http://kernel.org maintained by John Linville. Upcoming in-kernel stack/drivers will be pushed upwards (to Linus) via this tree.
There are two candidate stacks on the tree:

​

softmac stack: based on the current ieee80211 stack in the kernel with improvements+recent patches.
devicescape (a.k.a dscape, or d80211) stack: is another stack written and recently GPL'ed by Devicescape Inc.

Although devicescape has some advantages in functionality (like full WPA support), softmac is likely to be merged into upstream due to some issues in stability, compatibility etc.
Both stacks seem to stay under concurrent development (at least for a while)
Functions Supported at d80211 stack
Obvious Functions : various send/receive and their lower/higer layer interfaces etc.
BSS join/scan
802.11e/WMM parameter set handling, and packet→queue classification
(De)authentication
Encryption (wep, wpa, tkip/aes)
IBSS create/find/join/merge
Basic stat/info dump to /proc
A simple rate control algorithm
Interface for HostAPd
Devicescape stack is accessible from ​http://kernel.org/git as a git project named 'wireless-dev'.
Last modified
17 years ago
Last modified on Apr 16, 2006, 3:40:24 AM
Attachments
(2)
Download all attachments as: .zip
Note:
See
TracWiki
for help on using the wiki.